A division of Worley Music, Music Lessons Las Vegas is the valley's leader in private music instruction. Regardless of your age, level, or musical interests we are happy to help you attain your goals and are excited to share our mutual passion for music & learning. All lessons are individually tailored to your interests and desires and take place in the studio of a classically trained, post-graduate Magna Cum Laude degreed, former Nashville studio musician & university music faculty member. We offer guitar lessons, piano lessons, banjo lessons, ukulele lessons, mandolin lessons and bass lessons in multiple genres as well as songwriting & composition coaching & music theory tutoring. Contact us today to begin your musical journey!
Highlights, Specialties & Features
Music Lessons
Guitar Lessons
Piano Lessons
Ukelele Lessons
Banjo Lessons
Mandolin Lessons
Bass Guitar Lessons
Songwriting Lessons
Composition & Theory Lessons
Serviced Areas
Las Vegas, North Las Vegas, Summerlin
Payment Options
American Express, Cash Only, Debit Cards, Discover, MasterCard, Personal Checks, VISA
Contact Details
Business Representative
Products & Services
Music Lessons in Las Vegas, NV
---
We pride ourselves at Music Lessons Las Vegas on not just playing music, but understanding it. While all of our lessons have elements of applied theory, consider diving deeper into the inner workings of music with composition lessons or music theory tutoring.
---
Songwriting lessons in Las Vegas, NV
---
Be the backbone of your band or ensemble as a bassist. You'll have a tremendous amount of freedom to improvise on this instrument after lessons with us; reach out and let us show you how.
---
The mandolin is an instrument that's very near and dear to our hearts. An incredibly versatile instrument, you'll be right at home playing anything from versions of Bach violin pieces on it to bluegrass standards.
---
Consider ukulele lessons and study one of the most popular current instruments! The ukulele has become quite a popular instrument as of late as many artists feature it in many current hit songs.
---
Banjo lessons in Las Vegas, NV
---
Music Lessons Las Vegas proudly offers guitar lessons for all ages, levels and styles. No matter if you're the parent of a very young child (we've taught as young as four years old with results) , a retired enthusiast who always had an interest in learning and now have the time, or an advanced player looking to prepare for a collegiate audition or competition we're happy to help you attain your own unique goal.
---
Give yourself or your child the musical foundation to build a lifetime of fulfillment upon. Piano lessons are a wonderful starting place for music lessons.
I would recommend this business
I'd already been involved in music for several years, but Music Lessons Las Vegas helped me to take what I know and apply it to Bass. Thanks to them, I made Jazz band!
| | | |
| --- | --- | --- |
| Value for money | | |
| Service & support | | |
| Quality | | |
| Location | | |
| Overall rating | | Excellent |
Customer Testimonials
My daughter has been taking piano lessons from Patrick for nearly a year. She has grown more in the past 10 months than she did in her previous 5 years. Patrick allows her to choose the music she wants to play and pushes her to learn theory and proper technique. 5 months ago, she decided to try the ukulele. In that time her progress is amazing and she is confident and performance ready. Patrick has inspired a young lady to take her lessons seriously and she happily practices. The student/teacher relationship that has grown from these lessons is a wonder to behold. I cannot recommend a more passionate and worthy teacher.
---
Patrick Worley [of Las Vegas Music Lessons] is a wonderful instructor. He teaches my son banjo and he loves it. It is showing my son an excellent way to express a new side of himself. Thank you for opening that new door for us.
---
I am a 68 year old recently retired professional who wanted to learn how to play the banjo. I tried the on-line learning techniques but I wasn't progressing the way I had hoped. Since I've started taking one on one lessons with Patrick I finally feel like I'm making some headway. He's very knowledgeable, patient and encouraging with me. I would recommend him as a music teacher without hesitation.
---
I have been playing guitar for 32 years. I am very capable about every aspect of the instrument from the music to its design and its construction. Mr. Worley [of Music Lessons Las Vegas] is the only teacher that I felt has been able to teach me something new. We have focused in music theory and applying it to the guitar and better yet my creativity. Mr. Worley is very methodical and very knowledgeable and I have no doubt that he can teach anyone from beginner to professional.
---
If you're looking for a knowledgeable and amazing music teacher look no further - you found them!
Our entire family has taken guitar and piano lessons from Music Lessons Las Vegas. Two of my children have special needs and it's amazing what they've learned from him. [Patrick] is extremely patient and everyone enjoys the music selections that he tailors to personal preferences. He's very professional it's a joy to take from Patrick.
---
Patrick [of Music Lessons Las Vegas] is an exceptional music instructor. He is patient and kind which is very important to those of us who are taking on a new instrument after age 50. He individualizes to meet student preferences or requirements. He makes difficult passages easier to handle by pinpointing problems and demonstrating how to practice to improve skills. He is an awesome musical talent who can inspire the rest of us to accomplish our goals and to enjoy playing our instrument.
Photo Book
Social Activity
Learn music lessons in Las Vegas ranging from guitar, piano, ukulele & more!visit our website to learn more:https://www.lessonslasvegas.com/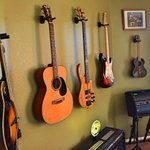 Visit our website to learn more about us! https://t.co/phPELMEYZE https://t.co/sA6jGmXpcJ